CNN
 — 

Sudanese people and Western staff are desperately trying to flee the country's capital, Khartoum, where intense violence between rival factions is overwhelming hospitals with victims and multiple attempts to bring about a ceasefire have failed.
Bloody clashes and confrontations between the Sudanese military and the Rapid Support Forces (RSF) have entered a sixth day, bringing chaos to the streets of Khartoum and other towns and cities near the capital.
By Thursday morning, many residents trapped in the middle of the clashes appeared to have lost faith in an immediate resolution. There was an increase in the number of people at bus stops, trying to leave Khartoum and escape the fighting, according to witnesses.
"Yesterday (Wednesday), I decided to leave Khartoum together with my wife and four of my children at any cost," Muhammad Hammam told CNN in an interview, as he recalled his success in escaping from the Al-Nasr neighborhood, east of the Nile, to the city of Atbara, northern Sudan.
"Death surrounded us from all directions, so I said it would be better for us to die attempting to cling to life while trying to survive instead of dying by a stray bullet at home or maybe dying of hunger or thirst," he said.
Up to 20,000 refugees from Sudan's Darfur region have fled to Chad in recent days, according to a statement from the UN Refugee Agency.
But escaping is no simple task. The capital's international airport remains out of service, according to a source in a Sudanese army, who claims the airport's control towers were destroyed by RSF bombings. CNN is reaching out to the RSF for comment.
The ongoing fighting and closed airport have hampered efforts to evacuate US diplomatic staff. A senior US official told CNN Thursday that an evacuation was not imminent as the situation on the ground remained too volatile. Americans in the country have been urged to shelter in place.
The US Defense Department said it was deploying "additional capabilities" nearby Sudan to secure the US embassy in the country and assist with a potential evacuation, if the situation calls for it. It includes hundreds of marines who are already in Djibouti, a US defense official told CNN, with aircraft capable of bringing in ground units to secure an embassy.
US President Joe Biden had "authorized the military to move forward with pre-positioning forces and to develop options in case – and I want to stress right now – in case there's a need for an evacuation," National Security Council spokesman John Kirby said Thursday.
Hammam said the attempt to flee was interrupted by a street war that broke out in his neighborhood by the warring factions. "My wife, children and I remained lying on the ground until yesterday morning," he said.
Bus tickets out of the conflict zone were around five times more expensive than before violence broke out, he told CNN. "Praise be to God, we escaped death. However, my children live in real terror. They will never forget the sound of ammunition and exchange," he said.
The RSF and Sudan's armed forces have been battling for power for since Saturday, and numerous attempts to pause the violence have proven futile despite expressions of support from each side.
Eyewitnesses said Thursday that reinforcements for the paramilitary RSF were on their way to Khartoum when army forces confronted them with warplanes and ground forces.
The UN has called for a ceasefire for at least three days after recent fighting to mark Eid celebrations, Secretary General António Guterres said during a press conference on Thursday.
"As an immediate priority, I appeal for a ceasefire to take place for at least three days marking the Eid al Fitr celebrations to allow civilians trapped in conflict zones to escape and to seek medical treatment, food and other essential supplies," Guterres said.
But Sudan's army leader Abdel Fattah Al Burhan told Al Jazeera that RSF troops need to withdraw from the cities if there is to be any truce, which the RSF pushed back against, saying they "will not withdraw or give up their right" to defend themselves, in a statement to CNN.
The World Health Organization (WHO) says the death toll in Sudan as of Thursday has risen to 331, with another 3180 injured, according to spokesman Tarik Jašarević in a statement to CNN.
A water and electricity crisis has continued in Khartoum, with food shortages in shops and pharmacies closed, eyewitnesses say. Fuel is also in short supply with gas stations shut since Saturday.
Intisar Muhammad Khair told CNN that she and her daughters were stranded for four days in her three-storey house in the center of Khartoum, until they managed to escape during Wednesday's truce. "(This was) after I lost hope of survival and began prayers and supplications that we die in decent fashion, especially when our stocks of food and water had run out," she said.
"The most dangerous thing that frightened us was the presence of an armored vehicle of the RSF under our house," she said, adding that she "saw corpses dumped in the streets and military vehicles burned" as they made their escape.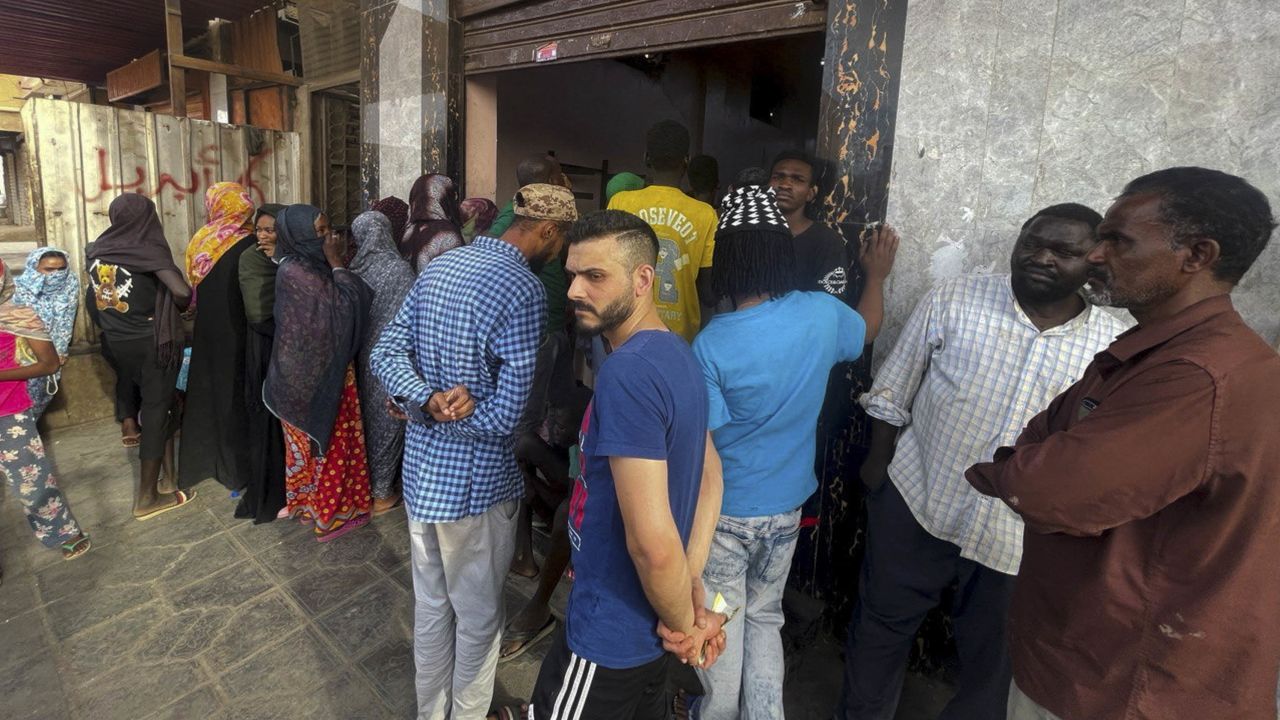 With gas stations closed, those with fuel in their vehicles have had greater opportunities to flee the danger. "So many people can't drive out because they don't have petrol but for us, thank God, we took the car that has petrol," Hadeel Mohamed, a 28-year-old architect, told CNN after leaving the city.
"We packed our bags and the few necessities and that and we left. We went inside the neighborhood we did not take the main streets," she said.
"There are very few people now, the whole neighborhood left. Everyone with a family has left."
She said many in the city have felt unprotected by the armed forces as they engage in combat with the RSF. "The army started a war in a city where citizens are, and didn't release a statement prior to the citizens saying 'you need to be aware some clashes will happen,'" she said. "That kind of left us saying: 'who are you and who are you fighting for really?"
At least nine children have reportedly been killed and more than 50 injured amid the ongoing fighting in Sudan, according to a statement from UNICEF Executive Director Catherine Russell on Thursday.
"We have received reports of children sheltering in schools and care centers while fighting rages around them, of children's hospitals forced to evacuate as shelling moves closer, and hospitals, health centres and other critical infrastructure damaged or destroyed, limiting access to essential and lifesaving care and medicine," Russell said.
Sudan's Doctor's Union has meanwhile said that 52 hospitals are out of service in the capital and adjacent areas, equating to about 70% of hospitals in the region.
Nine hospitals were bombed, and 19 were subject to forced evacuation, according to the union.
The union also said that five ambulances had been attacked by military forces, and others were prevented from transporting patients for treatment and delivering aid. Attiyah Abdullah, general secretary of the Preliminary Committee of Sudan's Doctors Union, said in an interview that there are "very few hospitals still in operation, and those that are, are on the edge of collapse."
As facilities run low on supplies, the violence is blocking aid from being delivered to hospitals, Save the Children Sudan country director Arshad Malik told CNN on Thursday.
Malik said that while the hospitals were without blood bags used in transfusions and short on diesel to power generators, Save The Children is relatively well stocked in the city but transport and access were the problems.
"We have the supplies, and we have the emergency support staff. They are ready, but they are stuck at home for now. We will see if they can move and give the supplies to different hospitals," he said.
"Children are seeing bullets and mortars hitting their houses," Malik added. "There is constant fighting and shelling around them."
RSF leader Mohamed Hamdan Dagalo, also known as Hemedti, is vying for power against Sudan's military chief Abdel Fattah al-Burhan, with forces loyal to each man battling violently for control.
Hemedti is commanding his troops from the city's Hai Al Matar neighborhood, which is close to the military headquarters, a high-ranking military official and an eyewitness told CNN on Wednesday. The military official chose to remain anonymous as they were not authorized to speak. The eyewitness, who saw Hemedti's convoy, requested anonymity out of fear for their safety.
A latest attempt to strike a ceasefire for 24 hours was quickly upended late on Wednesday, when clashes erupted north of Khartoum. Each faction previously accused the other of breaking another failed truce on Tuesday.